Okay, so now that we've had some overgrown landscaping removed, you can FINALLY see what my new house really looks like on the outside.
The day after we took possession, a crew arrived to take down all the dead shrubs and especially all the ones so close to the house.
I don't understand this kind of up-against-the-house landscaping. And when it's not taken care of, it can get out of control very quickly.
Also, many asked why the exterior was so rundown and that's because when the original owners sold it, the new owners rented it out for the last four years.
And it's just as well, it's unlikely I would have liked any additions to the landscaping.
The willow tree got a hair cut too!
And here she is now: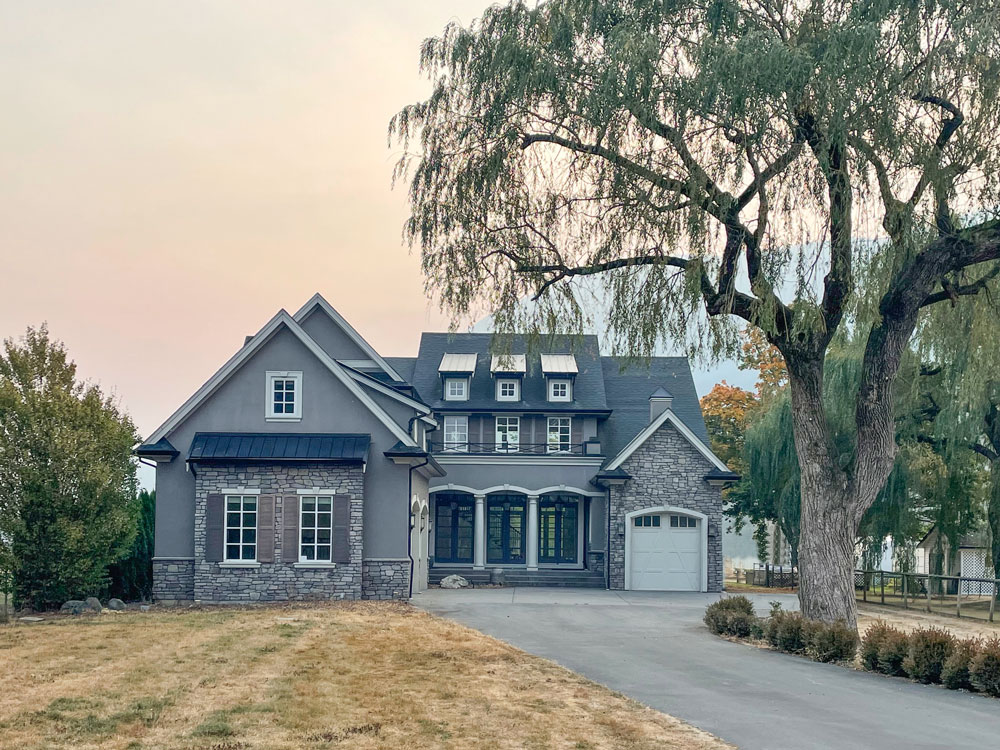 Here's the back of the house before with the overgrown trees blocking the view and the light:
And here's the after:
We need a big landscaping plan now! Thank goodness I have the talented Maryanne White who designed my last garden!
This house was built 11 years ago and the entire colour scheme is taupe from the exterior to the interior. 
Taupe was the most popular 'grey' in the grey trend because it's warmer than all the greys and cooler than the beiges.
She desperately needs a paint job but that will happen in the Spring, although we're still experiencing summer temperatures here in the West Coast, it's totally crazy!
Here we are on the front steps on the first day! Watch it here.
We are so grateful to have finally found a house that we can use as a canvas for the blog and our business. Our current house is definitely overdecorated haha. 
And we're renting it out, see the listing here.
Learn how to make the most of your renovation or new build project!
Okay, everyone, there's only one more course in 2022!
Register here for my last Fall workshop. Become a True Colour Expert and learn how to choose the best colour to pull a space together QUICKLY and EASILY for a home you'll love forever. 
Take a look at Breanna's experience and why she says Maria's system helped their design company stop overthinking colour!
Related posts:
Our Next Chapter; We're Moving
Which Tile for the Entry of our New House?